2021 SEASONAL CALENDAR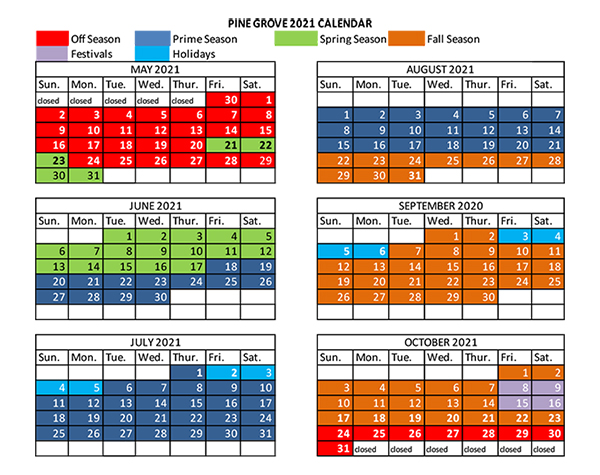 COVID-19 UPDATE
If you currently have a reservation, the following adjustments have been made to our rescheduling and cancellation policies under these unfortunate circumstances:
Guests may reschedule your reservation without a fee. New rates may apply on future dates.
Guests that cancel outside of 72 hours of your scheduled arrival date may do so with a $15 cancellation fee. Any remaining deposit will be returned within thirty (30) days of cancellation.
Guests that cancel within the 72 hours of your scheduled arrival date may do so with a $15 cancellation fee. Any remaining deposit will be converted to a gift certificate for future use.
Please see our full response to the pandemic at the top of this page.
Pine Grove Resort COVID-19 Initiatives
RESERVATION & CHECK-IN POLICY
We ask that all unvaccinated guests wear masks while checking in. We also ask that only one person per party checks in for each reservation to allow more space for social distancing in our office area. Thank you for your cooperation.
Rates subject to change based upon availability. A minimum stay of 2 nights on weekends (some weekends may require 3 nights). Shorter stays are possible if space is available and may only be made by phone. Should you decide to extend your stay, please check with the front desk as to availability of your room. In this situation, in-coming guests with reservations have priority. A 50% deposit is required. The deposit is applied to your entire stay.
Please check your arrival and departure dates carefully. You will be charged for the full number of nights you have reserved.
Our office hours are 8:00AM-10:00PM.
Incoming phone calls to guest rooms are not available after 10:00PM.
Check-in time is 4:00PM and check-out time is 11:00AM.
If you will be arriving after 10:00PM, please call our office 920-854-2321 for late check-in instructions.
You must be 18 years or older with a valid ID and credit card to rent a room.
There is a charge of $12 per night for more than two guests in a room who are over 12 years old. There is a limit to how many guest may occupy a room, which is based on room type.
In consideration of other guests, we cannot accommodate pets.
Bicycles are not allowed in rooms. A bike rack is provided, but chains and locks are not.
For the comfort and well-being of all of our guests, all our rooms and room decks are non-smoking areas.
BUS TOURS/WEDDINGS/LARGE GROUPS
At Pine Grove we welcome the opportunity to provide accommodations to bus tours, weddings or any other large groups. If you are interested in reserving a block of rooms for your group or guests, please contact our General Manager at 920-854-2321 to discuss discounted pricing and other special accommodations/amenities that we offer to tour groups, wedding or other large groups.
Our resort does NOT have an elevator. If you require a 1st floor room, or any other special accommodations or assistance during your stay, please call the main office at 800-292-9494 when making your reservation to insure such accommodations and/or assistance will be available during your stay with us.
If you have any questions, please feel free to contact us. We are looking forward to making your stay most enjoyable!